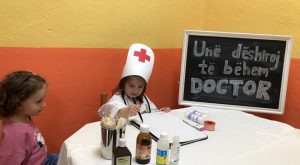 Kindergarten started working in March 2015, and from the beginning of the opening in compliance
with the laws of Kosovo.
Our nursery has a total of 16 staff, including the director, educators, psychologists, interns, cooks,
assistant cooks and cleaners. The nursery has a total of 90 children divided into
4 groups from 09 months to 6 years.
The activities and the plan are always developedbased on the plan of MEST and this providesquality, development, and education.
Training and work are based on Montessori methods. The different activities in the garden are carried out in the classrooms and in the toy corner in the garden. 
Some of the photos are a reflection of our workand dedication: